Tanimura & Antle Inducts 48 Employee Owners to Honored 20 Year Club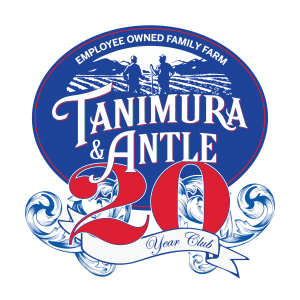 SALINAS, Ca. (September 14, 2023) – Tanimura & Antle is proud to announce the addition of 48 employee owners to its long standing and esteemed 20 Year Club this year. This annual tradition celebrates the Company's dedicated employees who have reached their 20 year milestone anniversary with the Company. Collectively, Tanimura & Antle has 364 employees who have contributed two decades of their careers to the Company's success, approximately 9% of their current workforce.
"Our 20 Year Club represents a cherished tradition and a distinguished honor at Tanimura & Antle," said Scott Grabau, CEO & President of Tanimura & Antle. "We deeply appreciate the pivotal role that our employee owners play in our Company's achievements. Their knowledge, loyalty and contributions are instrumental in shaping our success, and we're grateful for their unwavering commitment"
Tanimura & Antle recognizes its employees as one of their strongest assets and as a key competitive advantage in the fresh produce industry. According to the United States Bureau of Labor Statistics' 2020 report, the national median tenure that employees spend with a single employer is 4.1 years, making Tanimura & Antle's 20 Year Club members about 5 x the national median. The Company's long-term retention can be credited to a variety of factors, including promoting from within, comprehensive health benefits (health, vision, dental), a matched 401k, an employee stock ownership plan (ESOP), affordable employee housing, educational opportunities, a supportive, tight knit Company culture and more.
"Each year, as we welcome the new 20 Year Club members, we acknowledge their outstanding dedication, commitment, and teamwork," said Nora Cortez, Chief Human Resources Officer (CHRO). "These individuals embody our culture and are integral to our continued success."
Each year, both longstanding 20-Year Club members and the new inductees are celebrated in style at the Company's annual Family Fair, complete with a dedicated and exclusive VIP area at the event. In recognition of their remarkable commitment and dedication, they also receive a special gift and a well-deserved bonus for their outstanding achievement.