PlantTape: Planting automation system wins science & technology award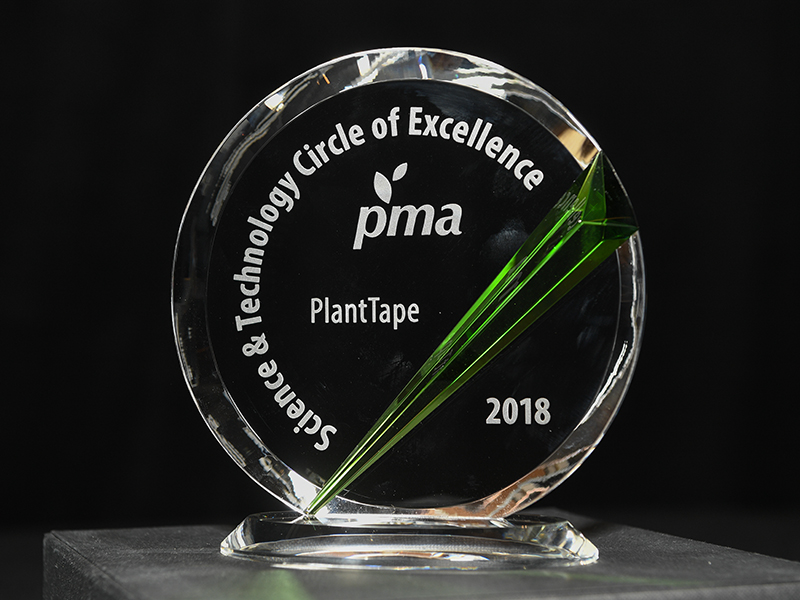 Tanimura & Antle's PlantTape automated transplanting system has been awarded the second annual Science & Technology Circle of Excellence A
ward, Produce Marketing Association (PMA) announced May 3. The award was presented at PMA's Tech Knowledge symposium, held May 2-3 in Monterey, Calif., USA.
PlantTape's Manager of Automation and Innovation, Jeff Antle, was presented the award by PMA Chief Science & Technology Officer Bob Whitaker, Ph.D., and Andy Kennedy, PMA Science & Technology Committee chair and co-founder FoodLogiQ.
"This year's winner checks every single one of the boxes for what this award program is looking to recognize and hold up to the industry as exemplary," Kennedy said. "PlantTape harnesses technology to achieve a broad range of benefits, from reducing labor demand to shrinking farming's environmental footprint. This is the embodiment of our 'work smarter, not harder' mantra."
"I am honored to receive this year's Science & Technology Circle of Excellence Award on behalf of PlantTape. Just as this award acknowledges, PlantTape strives to bring automated solutions to an industry with a growing need for continued efficiencies, and of declining resources such as labor," Antle said.
The PlantTape system harnesses technology to automate the sowing, germination, nursery care and planting of vegetable fields. The company said that compared to traditional methods, PlantTape improves crop quality, sustainability and operation-wide efficiencies, while also offering growers more logistical flexibility.
For example, a traditional transplanting crew requires 25-30 people, and plants a field at a rate of about one-half mile per hour. The PlantTape system only requires three employees to plant a field, and can reach speeds of up to seven MPH. Seedlings can be planted at any phase of growth which, according to the company, gives growers greater flexibility in their decision making. Meanwhile, PlantTape uses less peat than conventional transplanting plugs, all of its materials are biodegradable, and the plants require less irrigation once transplanted in the field.
The PlantTape system is already in use commercially to plant a range of vegetables, including leafy greens, cauliflower, celery, onions, tomatoes and cabbage. Other crops are currently on trial.
PlantTape was chosen from 20 nominations by a panel of judges that included Brennan as a previous award winner. Eventually the panel will be made up entirely of previous award winners.
PMA created the Science & Technology Circle of Excellence Award in 2017. The award recognizes individuals or companies who are solving business challenges by applying advances in science and/or technology to create better products, processes or customer value – particularly that achieve labor efficiencies or lead to the ability to work smarter. It is one of five Awards of Excellence that PMA offers to recognize those individuals and companies who are advancing the industry through leadership, marketing and innovation.
"Science and technology are playing an ever-important role in our industry, particularly to help us solve labor challenges, work smarter and create new business opportunities," Dr. Whitaker, said in announcing creation of the award program in 2017. "By recognizing innovators in this area, we hope to inspire our industry to follow their lead – that's why the award is named 'Circle of Excellence'."